About Hand Cleaning / Hand Hygiene
Click to expand

Hand hygiene refers to removing or killing microorganisms on the hands and is one of the most effective measures to prevent the spread of infections. There are serious health implications and financial costs associated with healthcare associated infections (HAIs), which makes hand hygiene a priority.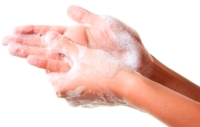 Hand hygiene is the single most effective way of preventing the transmission of infections. Because microorganisms can be spread by anyone, hand hygiene is everybody's responsibility: staff, patients, residents, visitors, and volunteers.

Either alcohol based hand rub (ABHR, also known as hand sanitizer) or soap and warm water are accepted methods of hand hygiene:
soap and water is preferred if you have contact with a patient who is known to have C. difficile or norovirus, or if your hands are visibly soiled
otherwise, ABHR is as effective as soap and water – and will not dry out your skin.
Patients, volunteers, and visitors should be reminded of the importance of hand hygiene, especially before eating or preparing food, after using the toilet or other personal hygiene activities, before leaving their homes for public areas, and when returning home from public places. You can read more about hand hygiene including glove use and hand care, at picnet.ca/guidelines/hand-hygiene/about-hand-hygiene/.
Provincial Hand Hygiene Program
Click to expand

There is increasing awareness of the importance of hand hygiene (HH), not only to protect patients but to protect the health of healthcare workers (HCW). In response to an Office of the Auditor General review on hand hygiene programs in healthcare, the Provincial Hand Hygiene Working Group (PHHWG) was formed with the support of the Ministry of Health Services and the BC Health Operations Council.
The Working Group
The PHHWG is composed of representatives from each of the health authorities, the Ministry of Health, and the Provincial Infection Control Network of BC (PICNet).
Aim
The group has been tasked with developing a mandatory province-wide hand hygiene program for the health authorities and assisting in its implementation for the individual health authorities. Download the two-page backgrounder.
Compliance Auditing
In 2012, provincial auditing of hand hygiene compliance in acute care facilities commenced. The methods of auditing vary from facility to facility; some do self auditing, while others have hired external auditors. The compliance data are sent quarterly to PICNet, and compiled into reports. In 2014, the provincial auditing expanded to include long-term care facilities.
Hand Cleaning Compliance (Auditing) Reports
Latest Quarterly Report: Hand Cleaning Compliance: Q2 of 2017-2018

Access the most recent annual report, and to read more about the auditing process
Annual Report:
Annual Surveillance Report for the fiscal year 2016-2017

Reports on provincial hand cleaning compliance are published quarterly. Data are collected by all the health authorities, and submitted to PICNet for analysis and reporting. The reports are reviewed by the Provincial Hand Hygiene Working Group (PHHWG).

Audits for hand hygiene compliance focus on before and after contact with either the patient or the patient's environment. Each health authority audits their healthcare workers' hand hygiene slightly differently, depending on the resources available; however, they all collect the same basic information.

The compliance rate is derived by dividing the number of compliant hand hygiene opportunities (before and after contact with the patient or patient environment) by the number of total hand hygiene opportunities (before and after contact with the patient or patient environment).

% = compliant opportunities / total opportunities

 
Other resources and links
You can find the Provincial Hand Hygiene Guidelines, as well as other resources, under the Guidelines and Toolkits – Hand Hygiene menu.