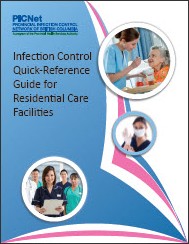 Sale! Due to a print over-run, we have booklets available for $4.50 each instead of $9 each.
PICNet has created this booklet to help train residential care staff in infection control. You can leave a couple of copies in the staff room for people to browse on their breaks, or make this "recommended reading" for new staff.
We have a downloadable version that you can print yourself, or you can order hard copies that we will mail to you. Hard copies are $5.00 each plus postage. Payment can be made by credit card or by cheque to the Provincial Infection Control Network of BC.