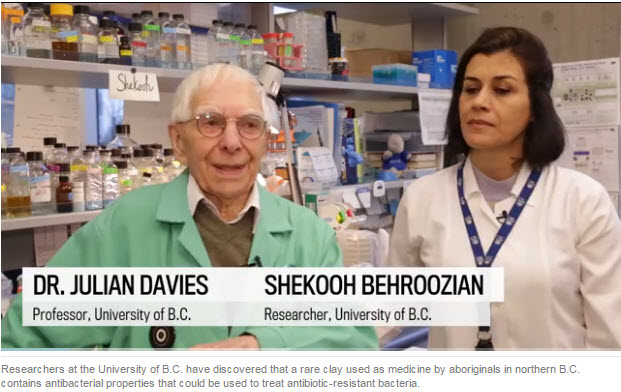 Researchers at the University of B.C. have discovered that a rare clay used as medicine by aboriginals in northern B.C. contains antibacterial properties that could be used to treat antibiotic-resistant bacteria.
The grey-green clay, known as Kisolite, has been used for centuries by the Heiltsuk First Nations to treat a range of ailments, including ulcerative colitis, arthritis, neuritis, phlebitis, skin irritation, and burns. Locals have also historically used the clay for eczema, acne and psoriasis. Now, UBC researchers say the clay exhibits potent antibacterial activity against multidrug-resistant pathogens.
Testing conducted by UBC microbiologist Julian Davies and researcher Shekooh Behroozian found that the clay, suspended in water, killed 16 strains of ESKAPE bacteria samples from sources including Vancouver General Hospital, St. Paul's Hospital, and the University of B.C.'s waste water treatment plant.
As a result of those tests, the scientists recommend the clay be studied as a clinical treatment for serious infections caused by ESKAPE strains of bacteria, a group of potentially deadly pathogens that cause many infections to "escape" antibiotics.
Read the full article and view the video on The Vancouver Sun website.