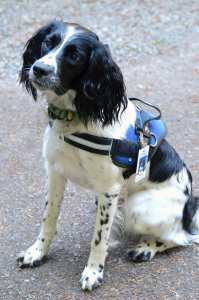 On July 5, after a year of intensive training culminating in exams he passed, English springer spaniel Angus will be introduced at Vancouver General Hospital as Canada's first, and the world's only current C. difficile hunter. He succeeds the world's first C. diff sniffer, a beagle in the Netherlands named Cliff, who has retired.
Angus uses his scent-tracking abilities to find toxins in the bacterial organisms that cause C. diff. infections which usually follow antibiotic use that alters the normal flora of the gut. C.diff. is a superbug that strikes those whose immune systems are weakened by antibiotics. It is the leading cause of infectious diarrhea in hospitals and residential care facilities.
Angus will work in hospital spaces that may prove to need more sanitizing, especially rooms that are being prepared for the next patient admission. A few taps of his paw on the "positive" area and a sitting position to wait for his kibble treat is how he alerts Zurberg, his handler.
The ebullient two-year old dog looks like he was born to do this kind of work, but if you see him on duty in hospital hallways and rooms, don't disrupt his concentration. And don't be offended if Zurberg and Angus ignore you. The Montana-born dog has important work to do and he's being touted as a tool that could help reduce the thousands of C. diff. cases acquired in B.C. hospitals each year. (There are about 220,000 such hospital-acquired infections a year across Canada and 8,000 deaths related to such infections.)
Angus's trainer, Teresa Zurberg, is a former Canadian Forces medic and dog trainer who previously worked at Western K9 Security. Zurberg, now a cardiac technician for a group of cardiologists in the Fraser Valley, is still working out how many hours a week Angus will be on duty at VGH and what compensation they may receive for their efforts. Zurberg volunteered her time training the dog.
Dr. Elizabeth Bryce, medical director of infection control for Vancouver Coastal Health region, said hospitals obviously have a lot of different fecal smells but in three formal examinations, Angus demonstrated his proficiency at detecting the "barn smell" associated with C. diff. toxins. In training, the scent was placed on cotton swabs.
"We're using his talents to look for reservoirs of C. diff. in places like unoccupied rooms, bathrooms and hallways. We want Angus to make a quick sweep of the areas and then when he detects something, we can do more cleaning," she said, noting the hospital has ultraviolet machines used to decontaminate surfaces.
Read the full article and watch the video interview with Dr. Bryce on The Vancouver Sun website.