Excerpted from The Maple Ridge & Pitt Meadows News:
"Violet" is one of three Xenex "germ-zapping robots" that have been put to work in the Fraser Health region, trying to ensure the rooms are free of superbugs that cause infections.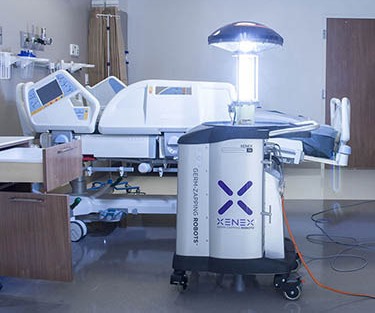 Cathy Wiebe, director of clinical operations at Ridge Meadows Hospital, explained that Violet is the latest weapon in the battle against hospital acquired infections.  "The bugs do change, and it gets harder and harder to make sure the room is as clean as it can be before we admit a new patient," she said. Hospital acquired infections are "very high on our radar," Wiebe added.
Ridge Meadows Hospital has had problems with Methicillin-resistant Staphylococcus aureus, which is caused by staph bacteria. It is a bug that has evolved to survive common antibiotics, and causes problems when it enters the body through a cut or wound.
Ridge was one of three hospitals chosen for a trial with the new technology, which uses high-energy, full spectrum, pulses Xenon ultraviolet light to eliminate bacteria and viruses. It is said to be effective against three of the bugs that most concern hospitals: MRSA, clostridium difficile (C-diff) and vancomycin-resistant enterococci (VRE).
Wiebe said the robot doesn't take the place of the cleaning staff. Rooms are still cleaned the same way as before, and the UV light treatment is an added layer of disinfection. Staff members wheel the robot into an empty room, and it emits light in a seven foot radius. Nobody can be in the room while the light is on, and the robot is programmed to shut down if someone walks in and trips its motion detector. It zaps bugs for seven minutes at a time, shuts down, then can be safely moved.
It used to take about two and a half hours to pulse a four-bed room, but staff members are gaining efficiency, having been using Violet since her arrival on Nov. 14, and they've got that down to about two hours. Wiebe said there is a detectable difference after the robotic disinfection. She said patients have also commented that rooms smell cleaner after the treatment.
It is being used in five units of the hospital, including surgery, rehab, two medical units and the patient assessment and transition to home unit.
The other two hospitals doing trials are Abbotsford Regional and Burnaby General. If the microbial load in these three facilities can be lowered by using Violet and her germ-zapping twins, over the course of a six-month trial, more robots will be rolled out into all 12 hospitals in the region. Each robot costs over $100,000 U.S.
Read the full story online  Photo credit: Maple Ridge News