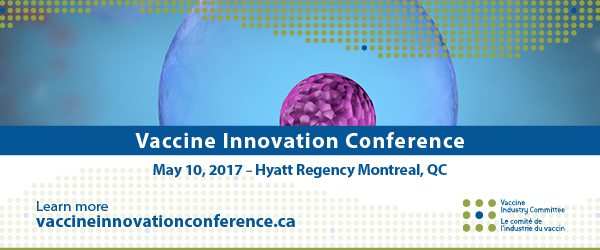 May 10, 2017
Hyatt Regency Montreal 
Montreal, Quebec 
vaccineinnovationconference.ca   
The Vaccine Innovation Conference will be held May 10, 2017 in Montreal hosted by the Vaccine Industry Committee. This one day conference will include academic, industry and government leaders focusing on vaccine innovation in Canada. The goal of this one-day event is improved knowledge exchange and awareness of Canadian vaccine innovations and accomplishments to support investment for vaccine R&D. The Vaccine Innovation Conference is being held in conjunction with the Canadian Society for Pharmaceutical Sciences (CSPS) annual conference, May 10-13, 2017.
What is the conference offering?
This one-day conference is a snapshot of the best of Canada's vaccine research and local and international organizations, companies or biotechs should consider attending the conference to discover this fruitful Northern scientific ecosystem.
The preliminary program for the 2017 conference is now available online at vaccineinnovationconference.ca.
Session topics include:
emerging disease vaccines
cancer vaccines
global health vaccines: parasites and TB
vaccine technologies
There will also be a panel discussion on funding of vaccine research and development in Canada.
You can register here.