You can download and print these high-resolution PDF posters (all are 8.5×11, unless otherwise specified).
New posters: 2017
Game of Germs
This set was created for Infection Control Week… but you can use them any time!
Download the whole set (14 posters + 1 cover), or first View the posters (and alternate covers)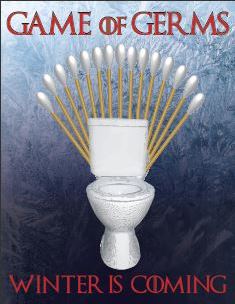 Respiratory Hygiene
With a (likely) bad flu season on its way, PICNet has created some new Respiratory Etiquette posters. Please note: some health authorities have versions with their logos on them, by request (this option is only available for these two posters). More cough etiquette posters can be found here.
| | |
| --- | --- |
| Do the dab – Stop the flu | Sneeze like a vampire |
Hand Hygiene

Soap vs. Sanitizer PDF

Lunch at desk PDF

Treasure Map PDF

Generation Touch PDF

Handwashing: Commonly Missed Areas PDF

Manicures and long nails PDF

Hand hygiene saves lives
(fact sheet) PDF

Hand hygiene: The 4 Moments PDF
Cough etiquette; stay home when sick
Patients and residents

Has your patient washed? PDF

Patient Hand Hygiene PDF

Wash Hands Before Eating PDF
MRSA Patient PDF

Patient Hand Hygiene PDF
Personal Protective Equipment (PPE)

Hollywood PDF
Fall fashion PDF

PPE and Risk Assessment PDF

PPE at Home PDF

Gloves Are Not Enough PDF

Personal Protective Equipment PDF
Housekeeping, cleaning, and reprocessing

If Germs Could Be Seen PDF

Spot the differences PDF

Housekeeping must change gloves PDF

Equipment Cleaning PDF

Reprocessing PDF

Home cleaning PDF
Vaccination

Flu Shot PDF

Vaccines PDF
Resistance is Futile PDF

Booster shots PDF

Flu Shots PDF
Seasonal
| | | | |
| --- | --- | --- | --- |
| Infection Control Week PDF | Tis the Season PDF | Soapy Holiday PDF | Season of Giving PDF |
Other

Risk Assessment PDF
Superheros and superbugs PDF

Journey of a Germ PDF

Clean Shots PDF (11×17) OTHER

Meet the Neighbours PDF

Photohygienic PDF

Travel Health PDF
Game of Germs
Download and print our "Game of Germs" poster series. There are fourteen pathogen posters (in one PDF; file size 3.5MB) and three alternate covers (scroll down to see these). The posters will all fit on a tri-fold posterboard display, using any of the covers.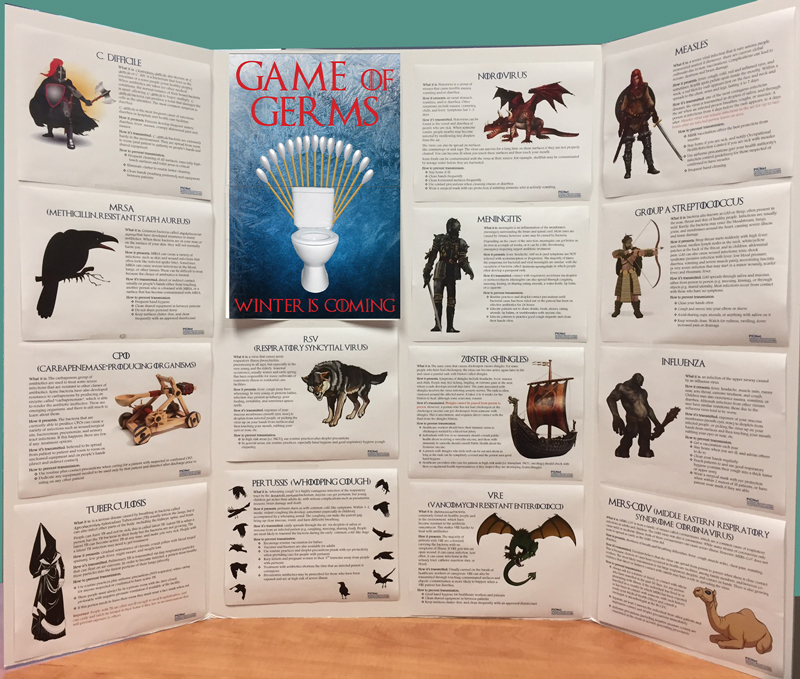 Alternate cover sizes (right click image and choose "save link/target as" to download poster)
| | | |
| --- | --- | --- |
| One letter-size page | Two letter-size pages | 11×17 |
| | | |
The Dirty Dozen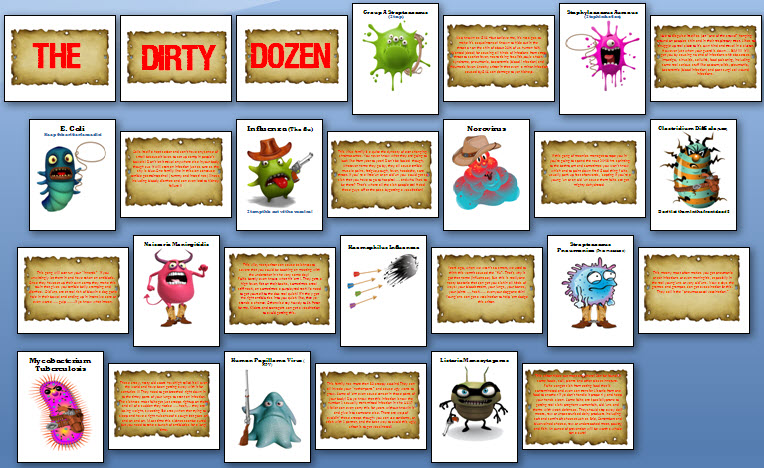 Please note: all the above posters are available for your use under a Creative Commons Attribution-No Derivatives license. This license allows for redistribution, commercial and non-commercial, as long as it is passed along unchanged and in whole, with credit to PICNet.