If you purchased the kit between August 2013 and July 2014, you have the 2013 edition of the game. We have since updated the kit based on feedback from users. You can update to the 2014 version for free, or you can continue to use the 2013 version – whichever you prefer.
The changes we made are as followed:
Question #8 was revised. Instead of matching PPE to types of transmission (contact, droplet, airborne), we now have staff choosing PPE based on Point-of-care Risk Assessment (PCRA) scenarios. The new question uses actual PPE instead of cards; this way, staff unfamiliar with using PPE can get over the 'fear factor', and the whole team can play the question together, rather than one person from each team coming up to the front. Put out 2 sets of PPE on the table – 1 for each team – and let them decide together which items are needed for each scenario.
Question #10 was deleted because we want to encourage staff to think through PCRAs rather than simply memorizing PPE to transmission to types of infection. Because Question 8 is quite long, there would be no time for another question on the same issue, so the two have been merged.
Some of the questions were re-ordered to keep the rotation between buzzer, board, and activity questions going. However, as before, you can run the game questions in any order you wish!
If you like the original Questions 8 & 10 and want to stay with the 2013 version of the game, these are the links you will need:
If you would like to update to the 2014 edition, these are the links you will need:
OR…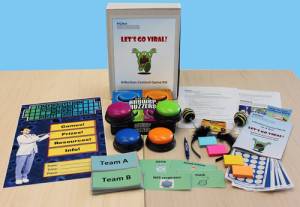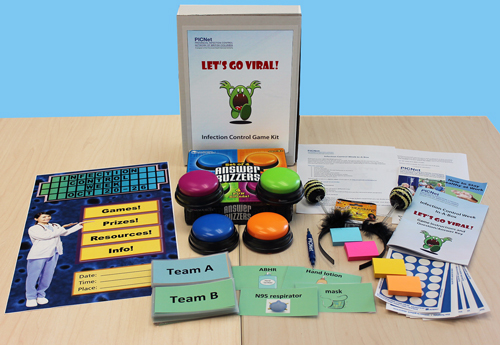 You can buy a whole new kit.
The contents are the same as last year: (modified) game cards, (modified) instruction booklet, buzzers, poster, stickers, bug antennae, and scoring sheets. 
What the kit does NOT include:
Prizes (you'll need to source these yourself)
PPE (gloves, gown, masks, eye protection – you can reuse the gowns and eye protection as these are for demonstration purposes only)
Batteries (for the buzzers)
More Links
Have you used the game?
We'd love to hear how it went! Please email us and let us know what you thought of it; this helps us in planning and creating other educational resources.