Canadian researchers developing one-time flu vaccine
from CTVNews.ca:
Researchers at McMaster University in Hamilton, Ont. are developing a flu vaccine that would be administered only once, eliminating the need for the annual shot.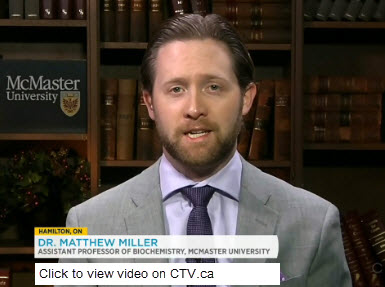 Dr. Matthew Miller, an assistant professor of biochemistry at McMaster, is part of the team of researchers developing the universal vaccine. The basis of its success, he said, is that it targets an unchanging part of the flu virus.
"The current vaccines that we're using now essentially have to be remade every year because of the fact that the virus mutates really rapidly," Miller said in an interview with CTV's Your Morning on Tuesday.
Humans get sick from the flu when the "hemagglutinin," the part of the virus that mutates, "locks" into our cells. A typical flu vaccine counteracts this process by forcing the immune system to create antibodies which essentially wrap around the hemagglutinin and prevent them from getting into the cells.
Each hemagglutinin is attached to the virus by a "stalk," which does not mutate. The universal vaccine would "teach the immune system" to target that area of the virus that remains constant, essentially eliminating the need for a new vaccine every year, Miller said.
Miller said pre-clinical trials of the vaccine to date have been "extremely" successful, and he expects that it will be ready for market in five to 10 years. "Essentially, now all we have to wait for is human clinical trials to start," he said. "That's really where the efficacy of this vaccine is going to be tested in a really robust way."
Read the full article and watch the video on CTV.ca 
 
International team of researchers using computer modelling to develop universal flu vaccine
From Science News Daily: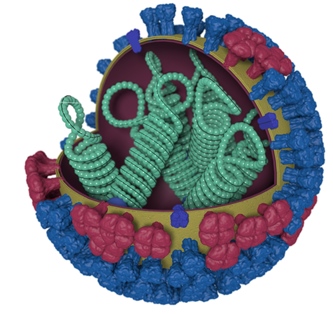 A research group involving the universities of Lancaster, Aston and Complutense in Madrid has applied ground-breaking computational techniques to design the vaccine. The researchers have devised two universal vaccines:  a USA-specific vaccine with coverage of 95% of known US influenza strains, and  a universal vaccine with coverage of 88% of known flu strains globally.
Dr Gatherer of Lancaster University said: "…Based on our knowledge of the flu virus and the human immune system, we can use computers to design the components of a vaccine that gives much broader and longer-lasting protection."
Dr Pedro Reche of Complutense University said: "A universal flu vaccine is potentially within reach. The components of this vaccine would be short flu virus fragments — called epitopes — that are already known to be recognized by the immune system. Our collaboration has found a way to select epitopes reaching full population coverage.
Dr Darren Flower of Aston University said: "Epitope-based vaccines aren't new, but most reports have no experimental validation. We have turned the problem on its head and only use previously-tested epitopes. This allows us to get the best of both worlds, designing a vaccine with a very high likelihood of success."
Read the full media article on Sciencedaily.com
Read the journal article in Bioinformatics:
Qamar M. Sheikh, Derek Gatherer, Pedro A Reche, Darren R. Flower. Towards the knowledge-based design of universal influenza epitope ensemble vaccines. Bioinformatics, 2016; btw399 DOI: 10.1093/bioinformatics/btw399