A group of Queen's University graduates won a major innovation prize for a device designed to decontaminate personal electronic devices.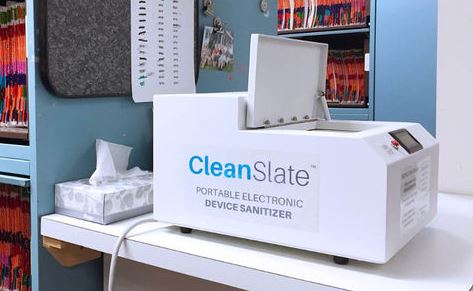 The CleanSlate company, which was named one of 11 winners of the 43North entrepreneur and startup awards, won more than $650,000 (US$500,000).
The CleanSlate technology uses ultraviolet light to clean the surfaces of cellphones, tablets and medical devices. It is meant to kill bacteria that have developed resistance to traditional treatment, including Methicillin-resistant Staphylococcus aureus (MRSA), Clostridium difficile (C. difficile) and Vancomycin-resistant enterococci (VRE), "superbugs that hospitals are very concerned about because they are difficult to eradicate and they are very difficult to treat once somebody is infected," said Queen's political science graduate Taylor Mann, the company's president and chief executive officer.
"One of the things that got us onto this idea, that sparked our focus on health care, was that at Kingston General, for example, you can't bring a cellphones or tablets into the neonatal intensive care unit or the intensive care unit. One of the key reasons for that is they are incredibly dirty," he said.
You can read the full article on the CBC website.