The insects tested negative for both the Zika and West Nile virus
Species can carry Dengue fever
From CBC.ca: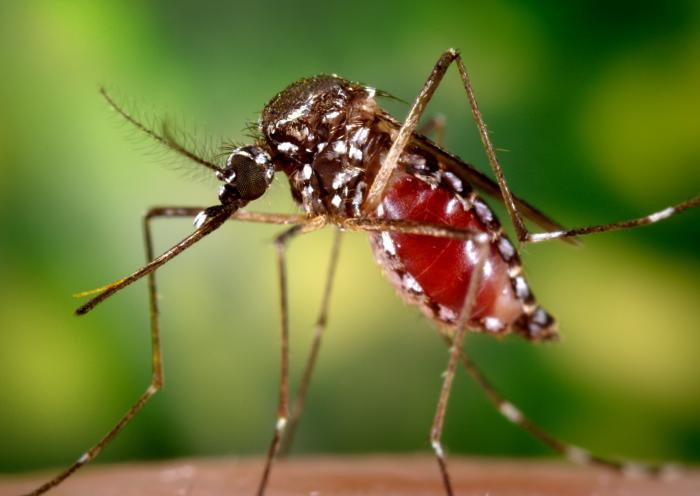 A mosquito species capable of transmitting the Zika virus and other tropical diseases may have established a colony in southwestern Ontario, a development that could mean changes for Canadian healthcare providers.
Two adult Aedes albopictus mosquitoes, also known as the Asian tiger mosquito, were recently trapped in Windsor-Essex, following the 17 found last year, according to the area's health unit.
Staff are not sure how the insects arrived in Ontario, but the region's acting medical officer of health said evidence suggests the mosquitoes may have hatched in the Windsor area.
"Seeing them this early, we're more concerned about an established population here," said Dr. Wajid Ahmed, explaining that last year the insects were found in mid-October. "This time around it's mid-August, which is more suggestive that they just became adults here in this region."
It's also possible the insects were carried from the United States in a shipping container or by other cross-border traffic.
The two mosquitoes tested negative for both the Zika and West Nile virus, just like those captured in Windsor-Essex last year.
Ahmed said climate change bringing warmer temperatures to Windsor might help explain why mosquitoes are moving north.
"Once they establish themselves here it would be more difficult to control and maybe we'll see some diseases we haven't seen before," he said, adding the species can also transmit dengue fever and chikungunya — both of which can cause fevers, and headaches along with muscle and joint pain.
"Our immune systems are not prepared for that," Ahmed added. "Some of these tropical symptoms are way behind on our list of differential diagnosis so I think that would require some understanding and education from the healthcare provider perspective that these are also a possibility now."
Read the full article on http://www.cbc.ca/news/canada/windsor/evidence-shows-mosquitoes-capable-of-carrying-zika-virus-may-have-colony-in-ontario-1.4249459