Today the BC Centre for Disease Control (BCCDC) in collaboration with each of the local health authorities in BC and partners in Alberta, Quebec and nationally at the Public Health Agency of  Canada published a paper in the peer-reviewed journal EuroSurveillance describing epidemic features of enterovirus D68 (EV-D68) in Canada during the fall of 2014.
For the full publication (open access), see: http://www.eurosurveillance.org/ViewArticle.aspx?ArticleId=21283. For a synopsis, see below.
Why and how the investigation was undertaken: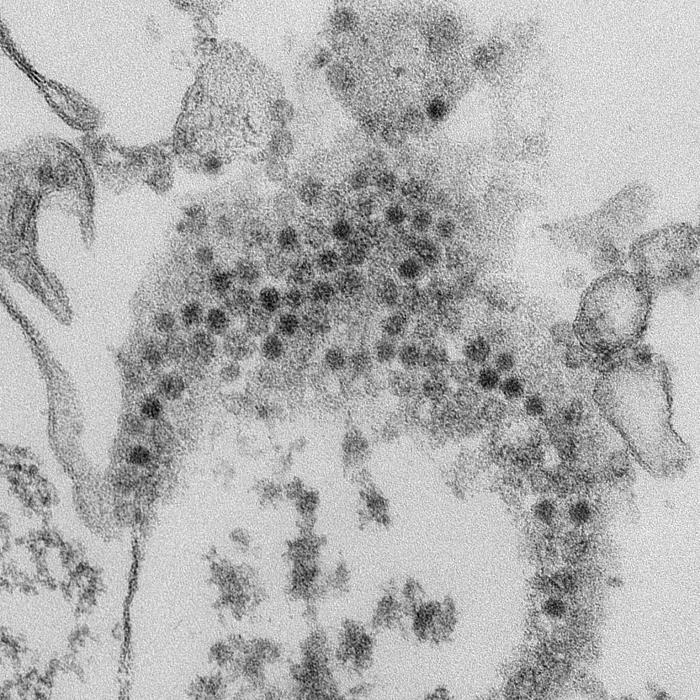 Current understanding of EV-D68 has mostly been driven by local hospital-based clusters of severe  respiratory illness involving children and this may have skewed overall impressions of the spectrum of illness and age groups affected. In response to US alerts during the fall 2014, the current study assessed EV-D68 among both community and hospital patients of all ages.
Two surveillance systems were used to learn about patient risk for EV-D68: community-based testing of patients with symptoms similar to influenza-like illness (ILI) in three provinces (BC, Alberta and Quebec) participating in the Sentinel Practitioner Surveillance Network (SPSN) and laboratory-based enhanced passive surveillance among respiratory specimens submitted to the BC Public Health Microbiology and Reference Laboratory from outpatients and inpatients in BC.
What was found:
Investigators were able to confirm and quantify a widespread community epidemic during the fall of 2014 and, because monitoring was population-based in BC, the incidence of EV-D68 hospitalizations could also be derived and compared by age and sex.
Among SPSN outpatients with ILI, the study showed an 8-fold increase in EV-D68 detections from October to December 2014 compared to the same period in 2013. Children and adults who sought care from a general practitioner for ILI were equally affected, suggesting susceptibility across a wide range of pediatric and adult age groups.
However, children were more likely to be hospitalized with severe respiratory disease compared to adults. Children under the age of 10 had a 4 to 5-fold higher rate of hospitalization related to EV-D68 compared to older children between the ages of 10-19 and a 15 to 20-fold higher rate compared to adults over age 20. Boys had higher rates of EV-D68-associated hospitalization than girls, but this same sex difference was not observed in adults.
Five cases of acute flaccid paralysis, a condition defined by neurological symptoms and extreme muscle weakness, were identified in association with laboratory-confirmed EV-D68 infection in BC during the 2014 outbreak, with symptoms persisting at follow-up more than 9-11 months later. Three deaths were also reported in BC in association with laboratory-confirmed EV-D68 infection. However, it remains unclear if EV-D68 infections caused these severe illnesses. The three patients who died all had underlying conditions or co-infections that likely contributed to their cause of death.
Genomic analyses showed that the EV-D68 strains that circulated in BC, Alberta and Quebec during the fall of 2014 were similar to other strains globally, including those that caused the 2014 outbreak in the US, with no evidence of phylogenetic clustering by disease severity or risk factors.
What now
The BC provincial laboratory has continued to test for EV-D68 in 2015, with no cases found in August or September of this year. Given preferred late summer/early autumn seasonality, it is unlikely that EV-D68 will be a prominent contributor to enterovirus circulation this year. The periodicity of cyclical peaks in EV-D68 activity is not known but may span several years. For this reason, continued monitoring is warranted in case of resurgence during subsequent seasons.
Active surveillance, including both outpatient and inpatient settings, is needed from more areas and additional seasons to further inform EV-D68 incidence, spectrum of illness, and potential at-risk groups for severe or unusual outcomes.