In order to complete the Provincial Hand Hygiene Education Module or the Infection Control Basics module, you will need a PHSA LearningHub account. Anyone can have a LearningHub account; you do not have to work for PHSA. Once you have created an account, you will be able to track your courses and print certificates of completion. Please note: for any issues with your LearningHub account, including creating/updating your account, completing the modules, and/or printing your certificate, please contact learninghubadmin@phsa.ca, not PICNet. Thanks!
Creating a new account
Creating an account is easy; you only need to provide your name and email address. 
1. Go to https://learninghub.phsa.ca/ 
2. Click on "Sign Up", then "I Agree"
3. Select your employee status: PHSA or Affiliate (healthcare workers from other health authorities or non-affiliated sites). Don't choose "General Public" as not all the courses are available to the public.
4. Enter your name, email address, and create a username and password.
(You do not have to enter your manager's information unless your manager will be tracking your LearningHub courses; non-PHSA employees only need to complete the fields that have a * red asterisk.)
Then click Create Account.
5. You then need to check your email and click on the confirmation link that you are sent.
That's it! You are now ready to take the modules.
Below are instructions on how to find the courses, and how to print your certificates after you have completed the courses.
Taking the Courses
1. Once you have a Learning Hub account, you can find all the PICNet courses by searching "picnet"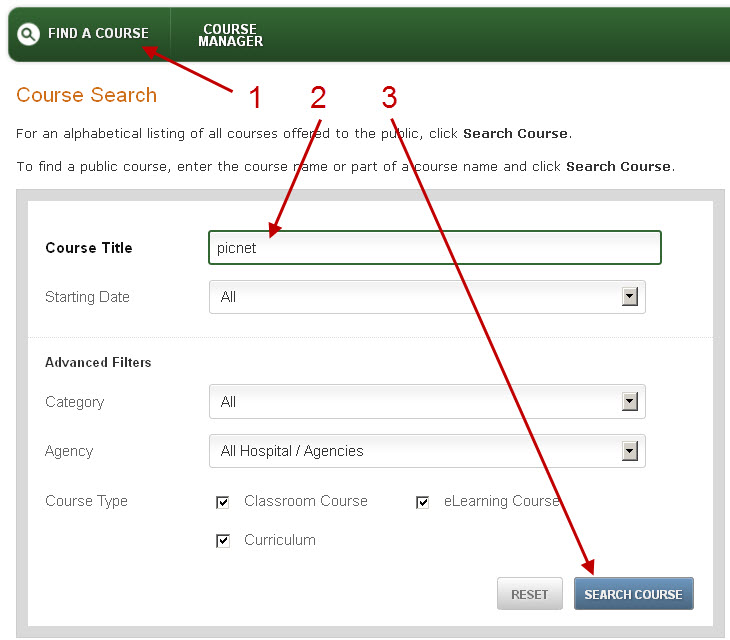 2. You then need to register for the course; just click the button.

3. Then click "Start Course"

4. Use the back and forward arrows to navigate through the course

5. On the final page of each module, you will find a link to the quiz. Click this, then on Attempt Quiz Now.

6. After you have completed the quiz, you will see a pop-up that says "Click Cancel to go back to check that you have answered each question. If you are ready to submit your answers, click OK." (This is just because the web page does not have the ability to confirm whether you have answered all the questions).  Click OK, then click Submit and Finish

You're done!
Certificate
Once you have completed the course and quiz, it will take about 15 minutes for it to show up in your Learning History. Once you see the course there, you can view (and print) your certificate.

If you have technical difficulties in creating your LearningHub account, please contact learninghubadmin@phsa.ca.  
If you created a General Public account and need to upgrade it so that you can access all the courses, here are the instructions for how to change your account.