All exhibitor information can be downloaded in one PDF document.
Update: Driving to the conference? You can get free parking by booking your parking here.
Exhibitor table locations are shown in the floorplan below. If you have visited this page before, please refresh your browser to ensure you are looking at the most recent version of the floorplan; the version you should see is dated February 8. You can click on the image to view a larger version.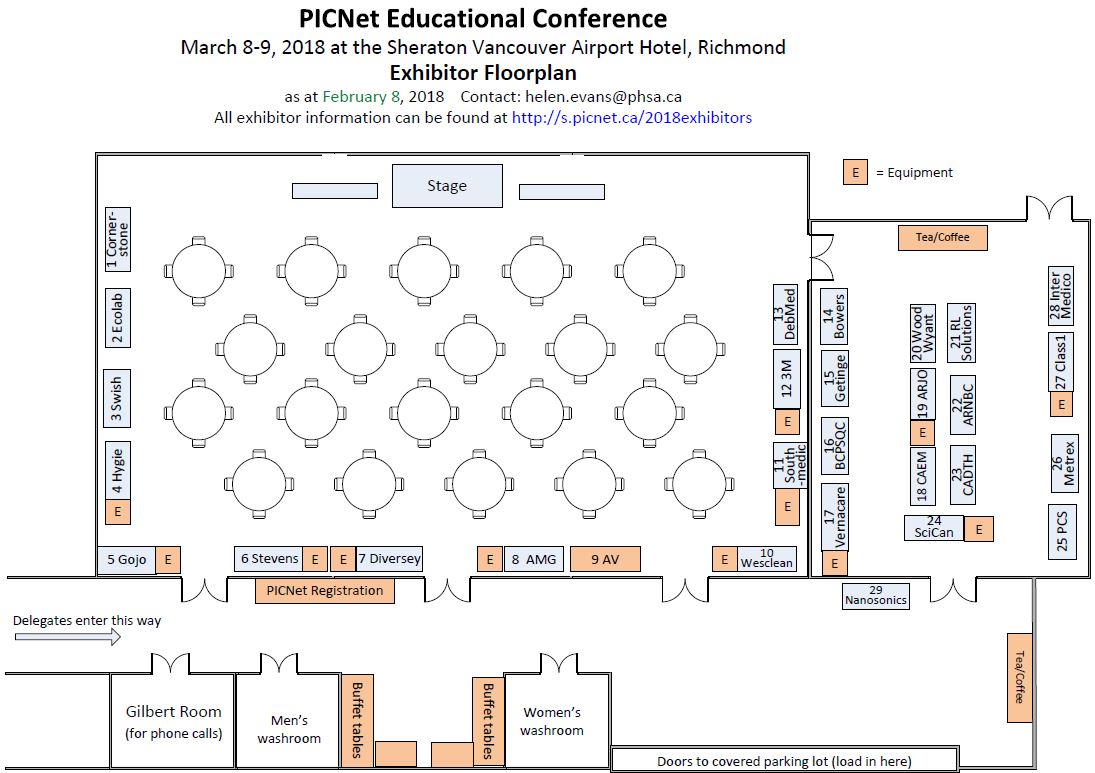 Setup and tear-down times
Setup time: 7:30-8:00 am, Thursday March 8
Tear-down time: 1:30-3:30 pm, Friday March 9
Please note: exhibitors in the main conference room will need to wait for the break between the first and second presentations after lunch to pack up, so as not to disturb delegates listening to the post-lunch presentation; exact times will be posted once the conference program is finalized.
Times that delegates will be visiting your booths are: breakfast, morning coffee break, lunch, and afternoon coffee break (on the Thursday; no afternoon coffee break on the Friday). Exact times can be viewed here.
Shipping Information
Please label all boxes as follows:
Sheraton Vancouver Airport Hotel
7551 Westminster Hwy
Richmond, BC V6X 1A3
Attn: Pia Schattner
PICNet Conference March 8-9, 2018
Table ___ / Your Company Name
Contact: Name of person attending the conference, and cellphone number
We have created a Shipping Label Template for you; you can print on any size paper/label you like, but please ensure that it contains all the above information, and that the text is large enough to be legible (boxes have gone astray before because receivers at the hotel didn't see the right information). Some carriers' shipping labels do not have room for all the information we are requesting, and/or have very small text, so please put these labels on in addition to your carrier's label.
Items you are shipping should arrive no sooner than 3 days before the conference. Should the shipment arrive before Monday March 6th, storage fees are applicable: $5 per box and $50 per pallet/skid. If you are sending large items (ie, on a pallet), please inform Pia Schattner, conference services manager, at least 1 week in advance.
Booking your guest room
You can view our hotel location and information page, or go directly to Sheraton Online Bookings.
Questions?
You can call or email Helen Evans, Communications Officer, at 604-459-1971.
Go to: Main conference page | Registration | Program | Short n Snappies | Hotel information | Exhibitor information