Downloads:
Shipping Information
If you are shipping any boxes directly to the hotel, please note that the Hilton will be charging for a storage fee for boxes that need to be stored overnight, either before or after the conference. The fee (payable directly to the Hilton, not PICNet) is $25/day per regular-sized item, and $150/day for oversized shipments (anything over 100 lbs and/or in a crate). All exhibitors with who are shipping items must contact the hotel's Receiver by February 19th so that the Receiver knows how large/heavy each item is, and can appropriately store these items in a secured area near the ballroom. Please contact Robert.Sharp@hilton.com (Tel: 604-232-5023) to let him know the number, size, and weight of any boxes you are shipping.
Boxes should be shipped to:
Hilton Vancouver Airport
5911 Minoru Blvd
Richmond, BC
V6X 4C7
Attn: Robert Sharp/Stephanie Wong / PICNet Conference March 3-4
Your Table Number and Company Name
Download the Shipping Label Template (MS Word) 
Please pre-arrange your return shipping, and include a label on your boxes indicating what company will be picking up the box and when (date + time) – in large, legible text! Last year we had several boxes left with courier labels attached, but the labels didn't indicate the pickup time and date; the hotel needs to know this. 
Set-up and Exhibition times
Set up time: Thursday March 3, 7:30 – 8:00 am
Strike time: Friday March 4, 1:10 – 3:00 pm
For exhibitor times, view the conference program online, or Download the PDF.
Storing equipment on the Thursday evening
Please note: the exhibitor room will be locked overnight, but the foyer areas cannot be locked. Exhibitors in the foyer will have to store any valuable materials in the exhibitor room on the Thursday night. Please let PICNet know if you will need to move anything into the main room, and we will coordinate this with the hotel.
Exhibitor Passport
To encourage traffic to the exhibitor tables, we will again be featuring the Exhibitor Passport: delegates must obtain a specified number of stamps from exhibitors in order to enter to win our grand prize. If you'd like to provide any runner-up prizes, we are always appreciative of this!
Guest Rooms
You can make your room reservations online or by contacting the Hilton's reservation department at 604-233-3990 or 1-800-445-8667 (or via email).  Please be sure to mention the group code PICNET or group name Provincial Infection Control Network of BC when making the reservation, to receive the special rate of $139 for a king bedded suite ( = $165 including taxes).
Floorplan
You can view the floorplan below. If  you'd like a printable version, you can download a PDF of the diagram.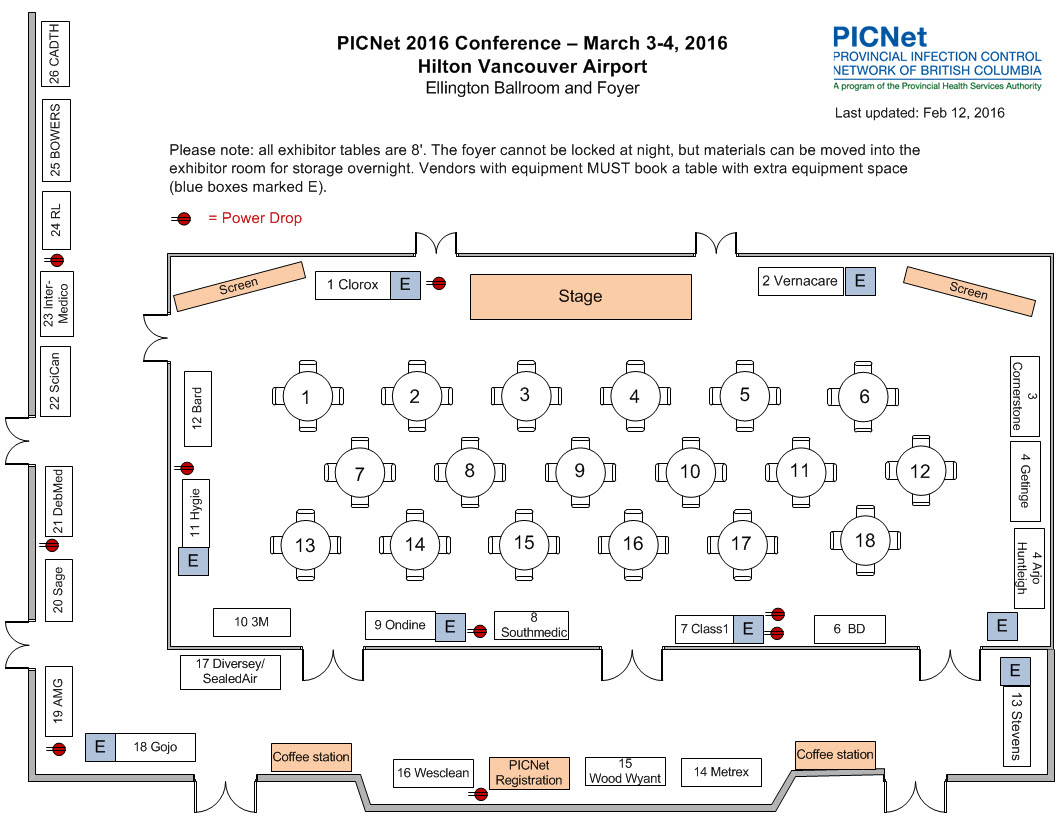 More information
View the conference program (please note: the pre-conference workshop on March 2nd does not apply to exhibitors)
Questions? You can call or email Helen Evans, Communications Officer, at 604-875-4844 x 22984.