Thank you to all our 2014 Conference exhibitors – your support is important to us.
PICNet's annual educational conference brings together healthcare professionals from BC from across the continuum of care (acute care, long term care, occupational health, public health, and community care) for two days of education and workshops related to infection prevention and control. Our sponsors and exhibitors are an important part of this event.
This year, delegates will receive an Exhibitor Passport: if they visit all the exhibitors, they can then enter to win the grand prize of a free registration for the 2015 CHICA conference. There are some other runner-up prizes too!
Floorplan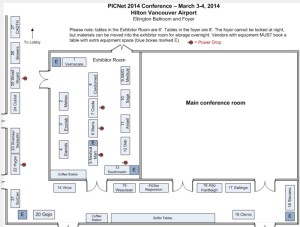 Exhibitors will be located in the exhibitor room and in the foyer. There will be a coffee station in the exhibitor room, and the hallway leads to the lobby and washrooms, so there should be good traffic in both areas. Please note: the exhibitor room will be locked overnight but the foyer areas cannot be locked, so exhibitors in the foyer will have to store any valuable materials in the exhibitor room on the Monday night.
Shipping Information
If you have materials/equipments you'd like to ship directly to the hotel, please arrange for them to arrive between Feb 26 and March 1, 2014.
Boxes should be shipped to:
Hilton Vancouver Airport
5911 Minoru Blvd
Richmond, BC
V6X 4C7
Attn: Christina DiPasquale
PICNet Meeting, March 3-4, 2014
Guest Rooms
Contact the hotel directly to book your guest rooms, and let them know you're with the PICNet conference so that you receive the conference room rate.
Set-up and strike times
Set up time: Monday March 3, 7-8 am
Strike time: Tuesday March 4, 1-3 pm
More information