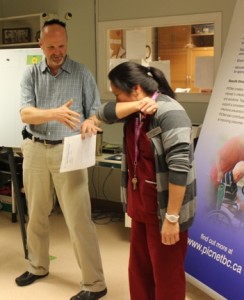 For Infection Control Week (October 20-26, 2014), PICNet will be visiting several residential care facilities across the Lower Mainland. The past two years, our educational infection control game was a huge hit – so be sure to book early if you'd like us to visit!   
The workshop lasts 45-60 minutes (depending how many questions your staff have),and we prefer to see staff in groups of 10-20 (depending on the size of room we'll be in). Having everyone sitting around a table is the best setup (as opposed to classroom style) but we can discuss what space you have and make it work!
Rather than try to cram all the visits into one week, we'll be spreading them out over October and November. Due to travel/budget restrictions, we are only able to visit facilities in the Lower Mainland, and only ones that we have not visited in the past two years. Please note that preference will be given to facilities that make the workshop mandatory for their staff (rather than waiting to see who shows up).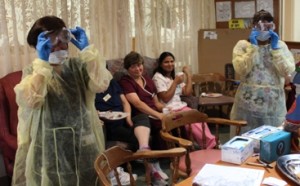 If we're unable to visit your facility or you'd like to run the workshop yourself, you can order one of PICNet's "Let's Go Viral!" workshop in-a-box kits. The kit includes the exact same game we will be hosting, with instructions and supplies; you just have to provide the prizes.
Visit application form
This year we have an online application form. Please submit by September 19, 2014.
.