PICNet supports Change Day BC
What drew you to healthcare?  What ignites your passion?  What step – big or small – could you take to make our system better for your patients or residents?
The BC Patient Safety & Quality Council, together with a growing number of partners, is facilitating a grassroots movement to engage, energize and mobilize positive action for change. On October 15, 2015 (15.10.15) they are inviting you to take that step by committing to making a change or trying something new.  We hope you'll join us and make a pledge for your patients, residents, colleagues, staff, volunteers, visitors – or yourself!
The Change Day campaign started within England's National Health Service, where pledges included leading a healthier lifestyle, spending a day in a wheelchair to better understand a patient's challenges, tasting medicine to appreciate why children complain about its taste, and introducing oneself to patients – the phenomenal #hellomynameis campaign.
Pledges can be big or small. They can be related to any topic of your choice. They are voluntary and a personal commitment to changing care for the better. You can even do a group pledge! It's as easy as recording your pledge online at changedaybc.ca and acting on that pledge.
Even seemingly small pledges can have a positive effect. When combined with all of the other pledges, we can create a tremendous wave of improvement that ripples throughout our organization and system.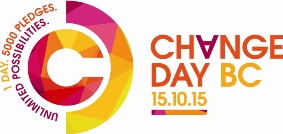 The "event date" is October 15th… but you can start pledging now… and acting on your pledge!
Look at the great pledges rolling in from BC!