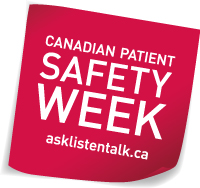 Canadian Patient Safety Week takes place October 27-31, and the theme this year is… infection control! As Patient Safety Week follows immediately after Infection Control Week, this year you have two weeks to run your infection control promotions and events.
There are lots of ideas for activities on our Infection Control Week page… and you can also access CPSI's resources for Patient Safety Week.
Get your fright on in the Mishap Mansion
BC's health authorities and the BC Patient Safety and Quality Council (BCPSQC) are using Canadian Patient Safety Week (Oct 27-31) and Halloween as opportunities to talk about a scary subject: patient safety mishaps.
You're invited to visit the Mishap Mansion. Once there, you can enter care rooms that are full of patient safety mishaps. Some are intentionally over-the-top (like giant, plastic rats). But some are mishaps that could really be seen in the rooms, despite our best efforts to create safe environments for our patients and ourselves.
 You can enter the contest – and be eligible for prizes – by telling BCPSQC about the mishaps that you spot! You can do so two ways: by sending a tweet (make sure to include your health authority's Twitter handle and the #MishapMansion hashtag) or by sending an email. 
There are also resources available on the webpage in case you would like to learn more about patient safety.
Visit the Mishap Mansion on the BCPSQC website.