Attendees at the PICNet 2017 Educational Conference were treated to a visit by a special guest… Angus the C.diff dog! Angus's handler Teresa Auberg brought him for a C.diff-hunting demonstration at the end of Dr. Bryce's presentation.  And soon Angus will have a colleague! (story below)
Photos: Angus hunts…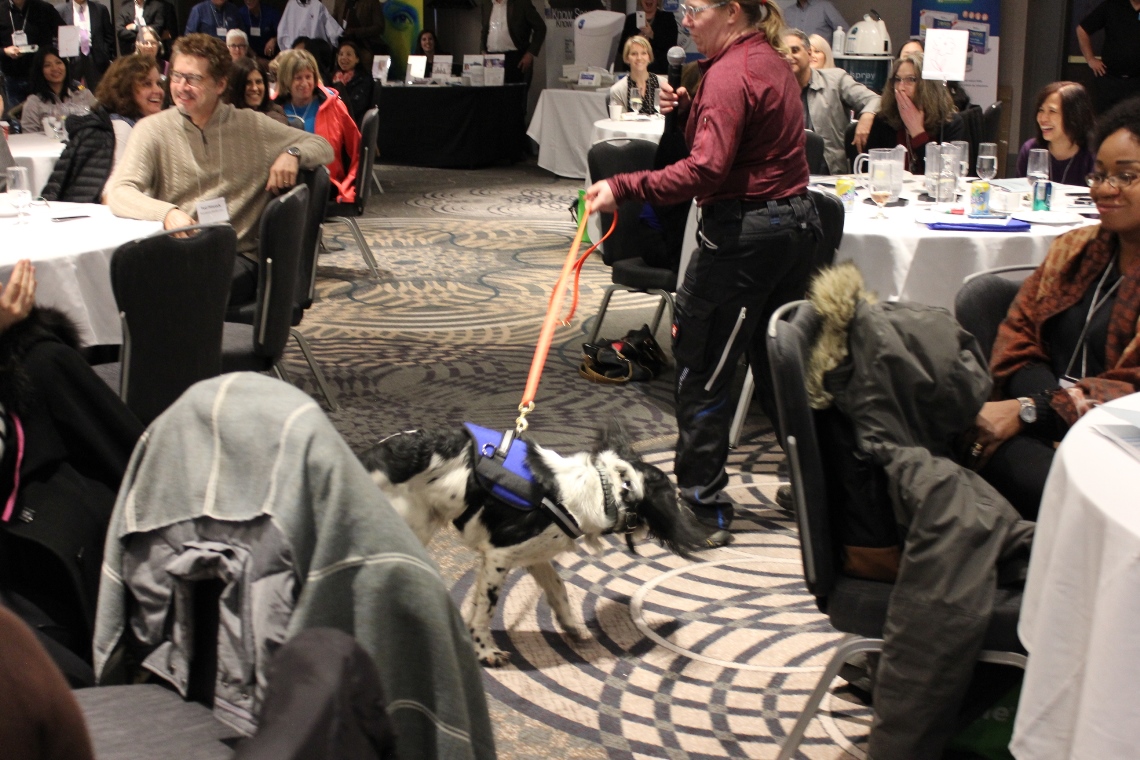 …and finds!
VGH to add second C.diff-sniffing dog after Angus's success
Excerpted from The Vancouver Sun:
Angus, a spaniel who started his dog detective work at the hospital sniffing out Clostridium difficile just months ago, is getting a partner named Dodger, another springer spaniel who was rescued by Angus' handler, Teresa Zurberg. Angus uses his hyperacute scent-tracking abilities to find even the most minute reservoirs of the superbug in fecal matter that lingers even after hospital rooms have been cleaned. C. difficile is a leading cause of potentially deadly, infectious diarrhea in hospitals and residential care facilities.
A nose for trouble. Angus, a two year old springer spaniel, got his working dog badge at Vancouver General Hospital Monday. It was presented by Health Minister Terry Lake. His owner/ handler is Teresa Zurberg. MARK VAN MANEN / PNG
At a press conference Monday, B.C. Health Minister Terry Lake gave Angus his working dog badge after he passed his probationary period. The former veterinarian also hid a C. difficile specimen under a stretcher in a vacant hall to see how long it would take Angus to find it. When the rambunctious dog entered the area, his snout led him directly to the item with a distinct odour under the stretcher. His time to scent detection, or what's called a focused alert, was under 10 seconds.
Angus has found C. difficile on about 100 occasions since he first started work at VGH last summer. He finds it in patient rooms and other areas that need more cleaning. As a reward, he asks for nothing more than a few kibbles or tug of war playtime. After Angus signals his find, hospital disinfection staff employ an ultraviolet light disinfection robot that, when turned on, can eradicate 99.9 per cent of C. difficile spores. The dog detective even has his own Facebook page.
Dr. Elizabeth Bryce, head of infection control at Vancouver Coastal Health, said Angus' discoveries are helping improve patient education and making hospital staff aware of which hygiene policies and practices need to change. Bryce said there have been no problems having Angus in the hospital; he's become a purely positive asset. His success is even leading to the development of a new infection control manual.
In one case, Angus smelled C. difficile on the denim jeans of a patient being discharged from VGH. He had been admitted to hospital with diarrhea and had brought it into hospital with him. Indeed, 28 per cent of C. difficile cases are what's called community-acquired, as opposed to hospital acquired. Bryce said this case shows that patients who have diarrhea should, upon hospital admission, have their clothes sealed up in a bag and removed from hospital to prevent contamination and the spread of the superbug.
The dogs are part of a $150,000 hospital-funded program that is now seeking private donors to expand. The budget covers the costs of dog treats, trainer's fees, extra costs for the trio of ultraviolet light disinfection robots used to decontaminate surfaces, the new manual and a website to help educate the public. Bryce said since Angus started work at VGH, it has become one of the "top users of UV disinfection in North America."
Read the full story on the Vancouver Sun website