Clean Hands Day 2013
PICNet Contest for Stop! Clean Your Hands Day
Contest winners: Darci Paice-Bailey of Northern Health, and Parveen Dhaliwal of Fraser Health
Runners up: Mari Green and Anna Fox of Beacon Community Services
Congratulations to our contest winners, and thanks to all the entrants! We'll be announcing our Infection Control Week contest soon, so we'll have more great contests coming up.
---
Darci Paice-Bailey's concept:
Photo of a "treasure" map showing dashed lines to where you have been and what you have picked up…. "the landmarks of the map marked by skull and crossbones and given where you went… e.g. washroom, patient care ….then have the last stop two choices… a path to a coffin… or go through a "waterful" wash hands and pick up your gold! Title of Map: "The most difficult path offers you riches!"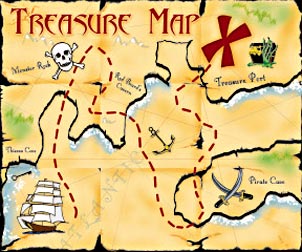 ---
Parveen Dhaliwal's concept:
Split each calendar page in two and do a "spot the difference" concept. For instance, a nurses is dispensing soap at the sink and there are curtains in the back and a laundry bin to the side with a few items left on the bedside table. Then in the adjacent photo, have the nurse dispensing the soap with the other hand with a sleeve rolled up and the curtains rolled back and a bag on the floor and the laundry bin moved to the left. This can be done with infection control topics in mind, and it will make for some great interactive fun. We can even move infection control items in the photos to engage individuals. This will require people to analyze the photos for the changes while observing infection control techniques/topics without even realizing it!
---
The contest rules were as follows:
May 6, 2013 is national Stop! Clean Your Hands Day, and to get everyone in the hand cleaning spirit, PICNet is running a contest, with the grand prize of a free registration for the PICNet 2014 Educational Conference. There will also be some prizes for the runners-up!
To enter, all you have to do is come up with a concept for a PICNet Calendar page. And to make it easier on you, you can think up anything infection control related, not just hand cleaning. The grand prize winner, besides receiving a free conference registration, will also be featured in the 2014/15 PICNet calendar!
You can either send us a mock-up (a picture or drawing with text over/under it), or you can simply describe your concept. For example, for the concept below, you would write "Photo of a healthcare working holding up gloves with tears in them, with the text 'Gloves are not enough' and the sub-text 'All gloves have micropores, and germs can get through.'"
You can check out the previous years' calendar pictures to get the creative juices flowing. The concepts should be educational/informative... and if possible, fun!
You can also find more ideas for activities for Stop! Clean Your Hands Day at handhygiene.ca.